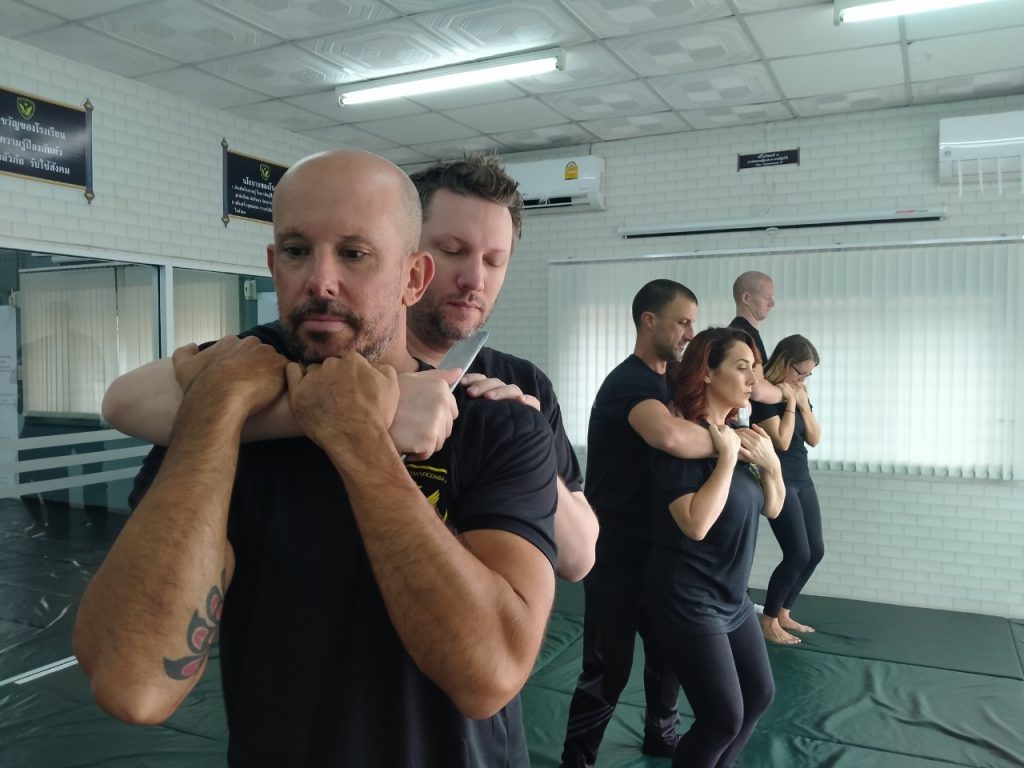 The Normal Course – 40 Hours
Learn as part of a group of new friends. The teacher will teach as a demonstration partner. Learn through technical repetition most the time and with an English speaking teacher.

Our teachers are professional at self defense. Students can follow their methods easily. At the same time, the curriculum is easy to understand, and teachers will watch and help closely.
This course is good for everybody: men, women, and children can all learn. We are guarantee that after studying, you will be able to defend yourself in an emergency.
We also provide ED visa for 12 months for foreigners who want to stay in Chiang Mai for longer-term and get to experience more of wonderful Thailand.
Schedule
– Study 2 hours/day
– Saturday or Sunday
– Time: 3 p.m. – 5 p.m.
There are several self-defense courses available in Thailand for Thais, foreign tourists, and long-term residents of all ages and genders. Self-defense can be divided into many types. At the moment it seems in fashion with Thai parents to enroll their kids in Taekwondo courses. Children can not only have fun but also do some solid exercise which is good for their health and physical well-being. In addition, they may also make new friends at the self defense/martial arts school, and this is also good for their mental health, interpersonal skills, and EQ. The children we teach at Hand-to-Hand Combat always have a good time here and enjoy their classes.
Another martial art, and what some might consider to be self-defense, Muay Thai (Thai kickboxing) as this is a popular sport in Chiang Mai, and all of Thailand. This training is not always as extreme as you may see on TV or in live fights, and it is often offered at different levels to suit people of all ages and abilities. Some foreign tourists and longer-term residents are attracted to Muay Thai courses because this is a tradition in Thai culture. The extreme nature of Muay Thai – even at a watered down level – is not however, desirable for some older or out-of-shape people. These people find it too intense and prefer easier and more calm self-defense classes.
As the self-defense school business is now becoming quite competitive, the standard of the schools and their reputation becomes more important. You need a schools with a good environment, facilities, and staff with experience and good training knowledge. Hand-to-Hand Combat School, located in Chiang Mai, is a well reputable school. You can see for yourself with our very high Google Rating and hundreds of satisfied students. All training here is supervised by a professional bodyguard who was also part of the Thai Military Police. The staff are also made up of other ex-Military Police who are proficient in bare-hand fighting against hostiles and knowledgeable about what to do in emergency situations. With courses designed for people of all ages, genders, and physical sizes, together with our large classroom and great facilities, you can learn to protect yourselves in no time.
You'll thoroughly enjoy our classes and in no time you'll have made a ton of new friends and be in better shape. Not to mention ready for any trouble you might find yourself in! Get in touch with us today to find out more about our self-defense course, you'll be glad you did.
Normal Course
฿
3,500
40 hours / Group
If you are interested can filling out the details.
Authorities will contact you back