Coming to Thailand in 2021
Prior to the global covid response, Thailand allowed in tourists from many countries with visa free bilateral agreements for up to 30 days.  However, after the media-inspired panic spread around the globe, Thailand closed its country on occasion in 2020, and even into 2021. This happened despite incredibly low death numbers, however the situation is still unstable.
As of now, tourists cannot enter Thailand as easily as before. Other types of visa holders allowed to enter Thailand at the moment (March, 2021) are diplomats, business representatives, and experts invited by the government. Permanent residents, students, business visa holders, Thai Elite visa holders, non-immigrant, including retirement visa and migrant workers can also come (back) to Thailand, however some types may need official documentation to be approved for re-entry.
Extending Tourist Visas
If a foreign tourist wants to change their non-immigrant visa into another type to stay in the country, e.g. work visa, business visa, education visa or other type, he or she does currently not necessarily need to do a visa run (crossing Thailand's border to a neighboring country to apply for a new visa). Currently, there are services for changing visa type without leaving the country, for those foreigners wishing to stay in the Kingdom.
On a normal tourist visa, an extension for an additional 30 days, according to the government website, can be done by submitting a passport size photograph, TM6 card, TM30 receipt from the hotel/accommodation and a fee of 1,900 Baht to an immigration office. With laws constantly changing however, please check for new information at:  https://www.thaiembassy.com/travel-to-thailand/covid-19-guide-for-travelers-in-thailand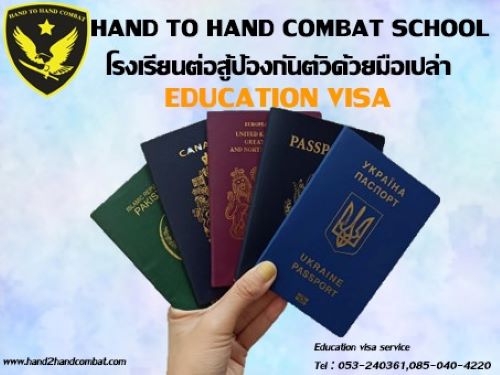 Switch to an ED Visa to Stay in Thailand
Should you wish to avoid hassle of renewing a tourist visa again and again, and/or if you are thinking about learning some useful skills, you can convert a tourist visa into an education visa, at a number of specially selected schools. At Hand to Hand Combat School, we train our students in bare hand self defense against various types of dangers. We also provide comprehensive assistance with one year education visa which you can obtain without leaving Thailand. The tuition fee is currently only 34,000 Baht for registration, visa and training, and the process of switching to a Student Visa without going to an international Embassy cost an extra 18,000 Baht.