Coming to Thailand in 2021
Prior to 2020, Thailand was not difficult to enter for tourists from most countries. Many foreigners' passports would allow them visa free or up to 30 days stay in the Kingdom.  However, after panic spread around the globe, Thailand and Southeast Asia locked down. Thailand closed borders time to time during 2020, and up into 2021 as well. Currently the situation is still fluctuating. Tourists cannot enter Thailand as easily as previously. Foreigners are allowed to enter Thailand as of March 2021, are diplomats, foreign workers, business representatives, and experts invited by the government. Permanent residents, students, business visa holders, Thai Elite visa holders, non-immigrant: including retirement visa holders and migrant workers can also return back into Thailand.
Testing and Quarantine
Due to policy to contain the spread of the pandemic, visitors must obtain a negative Covid-19 test, including a fit-to-fly certificate and insurance covering Covid-19 for entry to Thailand. All international visitors have to quarantine themselves for a period of 14 days at a state-approved hotel. Currently there is talk of visitors who have been vaccinated having to only spend 7 days in quarantine, but this has not been confirmed as there are still many concerns over the safety of the vaccine.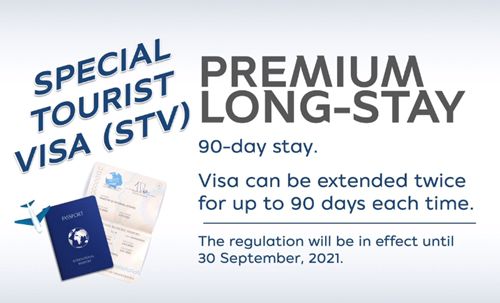 A New 9-month Tourist Visa
From October 2020 to September 2021, Thailand is allowing a limited number of long-stay tourists (mainly from low-risk countries) under the special tourist visa program (STV). Upon arrival in Thailand, tourists with this visa type need to undergo the same screening and quarantine period. However, the STV cannot be changed into another type of visa during the stay in Thailand. It remains unclear about what will happen after the 9-months expire; whether a visitor with this type of visa will be able to renew it from within Thailand or if they'll have to do a visa run to a neighboring country. See our post on how long you can stay in Thailand without a tourist visa for more information.
An Option with Certainty
A 3-month or 90-day non-immigrant visa is still available to apply for when visiting Thailand. It can be converted to another type of visa for longer stay if the visitor chooses a reliable agency, for example, conversion to an education visa. At Hand to Hand Combat School, we provide assistance with a 12-month Thai education visa without leaving Thailand. Get in touch with us to find out more about this option.